In January of 2004, PIA introduced brand new livery with the induction of Boeing 777 aircraft in its fleet. A diagonal dark green band is used to divide fuselage into two colors. Forward part of the fuselage is in white color. The rear portion of the fuselage is in off-white color. PIA in billboard style is placed on forward portion of the fuselage. Airline's stylized Urdu logo is retained and placed just behind cockpit windows. Wavy Pakistan flag is sported by an all off-white tail fin.
In the beginning, this livery was slightly different from its present appearance. In its early version there was all-white tail fin with simple green PIA painted on it. PAKISTAN titles were placed on forward fuselage. A small Pakistan flag was painted behind aircraft's rear door on both sides.
On March 14, 2006, PIA announced partial change in its aircraft livery. The airline decided to replace Pakistan flag on aircraft's tail with motifs representing the four provinces comprising Pakistan and repositioned Pakistan flag on main fuselage of the aircraft. Under this change, every aircraft was named after a city and its most remarkable characteristic. The tail displayed motif of home province of that city. Click here to read details of Province Tails livery with the list of aircraft that received this livery.
Boeing 777-240ER (Copyright © W.R. Brydon)
Bill took this photo of AP-BGL at Manchester Airport in 2004
---
Boeing 747-240B (SCD) (Copyright © Alan Lord)
AP-BAK photographed by Alan at Manchester Airport on March 23, 2006. This Boeing 747-200 is the first aircraft to sport partially changed livery announced by PIA on March 14, 2006. The tail depicts the motif of Sindh province with fuselage sporting aircraft's name 'Thar - Colours of the Desert'. The photo also shows new position given to Pakistan flag on aircraft's fuselage
---
---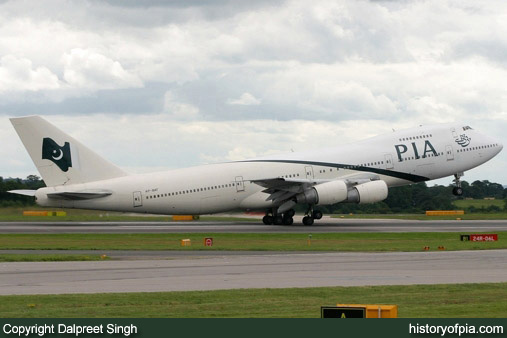 Boeing 747-240B (SCD) (Copyright © Dalpreet Singh)
AP-BAT photographed by Dalpreet at Manchester Airport on July 21, 2004
---
Boeing 747-367 (Copyright © Muhammad Ali)
AP-BFW photographed by Ali at London Heathrow Airport in June 2006. The tail depicts Punjab province motif and the aircraft is named 'Lahore - Garden of the Mughals'
---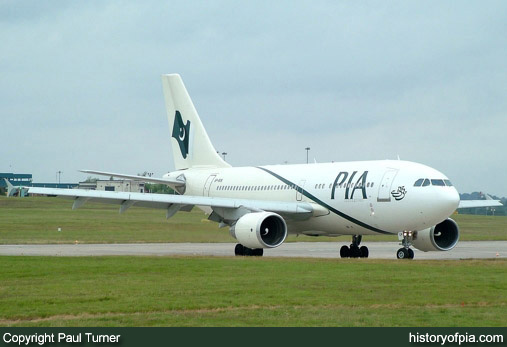 Airbus A310-324ET (Copyright © Paul Turner)
Paul took this photo of AP-BGN at Birmingham Airport on June 26, 2004
---
Airbus A310-308 (Copyright © Stephan Kruse)
AP-BEU photographed by Stephan at Charles de Gaulle Airport, Paris, France, on May 28, 2006. The aircraft is named 'Peshawar - Gateway to East' and its tail depicts Pakistan's North West Frontier Province (NWFP) motif
---
Boeing 747-367 (Copyright © Martin Hodgson)
AP-BGG photographed by Martin at Manchester Airport on July 24, 2004
---
ATR 42-500 (Copyright © Farrukh Bhati)
Tail of AP-BHH depicts Baluchistan province motif and the aircraft is named 'Gwadar - The New Port City'. Farrukh took this photo at Karachi Airport in June 2006
---
Airbus A310-324ET (Copyright © Teemu Tuuri)
In this photo you can see AP-BGO wearing early version of current PIA livery. Note simple green PIA painted on all-white tail and Pakistan titles on fuselage. Teemu took this photo at Dubai Airport on January 2, 2004