After a short period of independence, Pakistan decided in 1951 that it needed a national flag carrier airline; the government of the country accordingly established Pakistan International Airlines (PIA) in this role, and on 25 May ordered three examples of the Lockheed L-1049C Super Constellation four-engined airliner as the new operator's initial equipment. PIA flew its first service with the Super Constellation on 07 June 1954 on the route linking Karachi and Dacca (now Dhaka), which were the main cities of the country's western and eastern halves, of which the later is now Bangladesh. On 1 February 1955 the airline flew its first international service, between Karachi and London via Cairo.
Lockheed L-1049C Super Constellation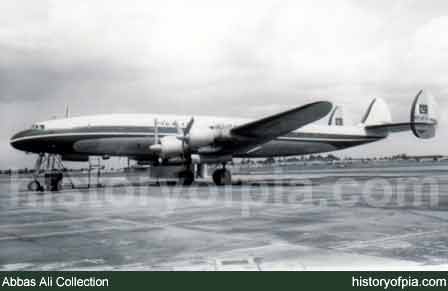 AP-AFQ in 1950s livery (Abbas Ali Collection)
On 11 March 1955 PIA formally took over the assets and routes of another Pakistani operator, Orient Airways, which had in effect been part of PIA since October 1953. The consolidation of the two airlines meant that PIA could enlarge its domestic network with 11 Douglas DC-3 and two Convair CV-240 aircraft, which left the Super Constellation machines wholly free for international services.
Douglas DC-3 Dakota
AP-AAH in 1960s livery (Abbas Ali Collection)
Modernization of the fleet used for domestic and regional operations was now a matter of high priority, and in May 1956 the airline placed an order for three examples of the Vickers Viscount 815 four-turboprop airliner, the first of which was accepted in the UK on 2 January 1959 for a debut in revenue earning service on the service linking Karachi and Delhi on 31 January 1959. Further enhancement came in 1961 with debut of the Fokker F27 Friendship twin-turboprop type, of which the first was received on 3 January 1961. The availability of the F27 for operation on the routes linking the major Pakistani cities freed the DC-3 fleet for use on new services to the remoter parts of East Pakistan.
Vickers Viscount 815
AP-AJG in 1960s livery (Abbas Ali Collection)
PIA was the first Asian airline with pure-jet aircraft, in the form of a Boeing 707-321 machine leased from Pan American World Airways for use from 7 March 1960 on the London service that was extended to New York on 17 June 1961. On 21 December 1961 PIA began to receive its own jet aircraft when it took delivery of the first of three Boeing 720-040B aircraft, whose availability permitted the operator to enlarge its international route network.
Boeing 720-040B
AP-AMG in 1970s livery (Abbas Ali Collection)
In 1963 PIA called off its New York service, but on 29 April 1964 became the first non-communist airline to operate a service to the Chinese city of Shanghai. A notable feature of PIA's domestic routes in East Pakistan for some time was the helicopter services operated with Sikorsky S-61N's. PIA ordered four examples of the Hawker Siddeley HS.121 Trident 1E to replace Vickers Viscount 815s. First of these four Trident aircraft was accepted on 1 March 1966. The Trident aircraft were later sold to the Civil Aviation Administration of China in 1970. In 1971 East Pakistan secured its independence as Bangladesh, and PIA ceased operations to that country. The airline's fleet and network were both reduced, but the service to New York was resumed in 1972.
Hawker Siddeley HS.121 Trident 1E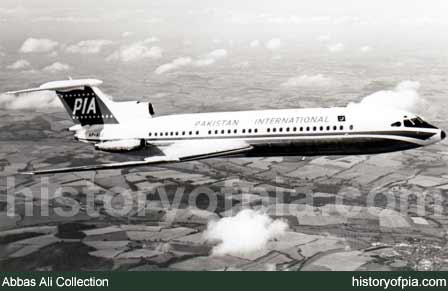 AP-AUG in 1960s livery (Abbas Ali Collection)
The first wide-body airliner used by PIA was the McDonnell Douglas DC-10-30 three-turbofan type, which the airline first received on 1 March 1974. A pair of Boeing 747-282B four-turbofan aircraft (initially leased from TAP Air Portugal) followed in April 1976, and on 3 March 1980 the airline accepted its first Airbus A300B4-203 two-turbofan type. In 1985 PIA became the first Asian operator of Boeing 737-300 aircraft, a total of six Boeing 737-300s were ordered to replace ageing Boeing 720B aircraft. PIA received first of its six Airbus A310-308 aircraft on 25 June 1991 from Airbus Industrie.
In the first half of the year 1999, PIA acquired five Boeing 747-367 aircraft (initially leased from Cathay Pacific) for its European and North American destinations. In 2002 PIA signed an agreement with Boeing Company for the biggest aircraft deal in the history of PIA. After a dry spell of 10 years, PIA ordered new aircraft - 8 wide-body aircraft from the Boeing 777 family for its long-haul flights. The airline accepted delivery of its first Boeing 777-240ER aircraft at Boeing Field in Seattle, USA, on 29 January, 2004. On 2 November, 2005, PIA signed an agreement with Avions de Transport Regional (ATR) of France to purchase seven brand new ATR 42-500 turbo prop aircraft. These new 48-seater ATRs will replace PIA's ageing fleet of Fokker F27s on airline's domestic and regional route network. On May 31, 2006, PIA received its first ATR 42-500 in Toulouse, France. The remaining six ATR 42-500s were delivered to the airline between 2006 and 2007.
Boeing 777-240ER
AP-BGK in livery introduced in 2004 (Copyright © John Farrington)
PIA retired its last two active Boeing 737-300 aircraft on June 17, 2014. The airline replaced Boeing 737-300 with dry leased used Airbus A320-200s. The first dry leased Airbus A320 wearing PIA livery landed at Islamabad Airport on June 28, 2014.
On April 11, 2015, PIA received first of five ATR 72-500 aircraft acquired on dry lease for eight years. The used ATR 72-500 aircraft are configured to carry seventy passengers in single-class layout.
The last active Boeing 747, a Boeing 747-300, was phased out from PIA fleet in August 2015.
Airbus A320-214
AP-BLC in current livery introduced in 2010 (Copyright © Mujadid Abdullah Ali)
On August 14, 2016, PIA launched its PIA Premier service with an Airbus A330-300 wet-leased from SriLankan Airlines. The inaugural PIA Premier flight PK-785 was operated from Islamabad to London. PIA Premier aims to provide better services to passengers with modern aircraft cabin seats, state of the art in-flight entertainment (IFE) system and new in-flight meals menu.
Airbus A330-300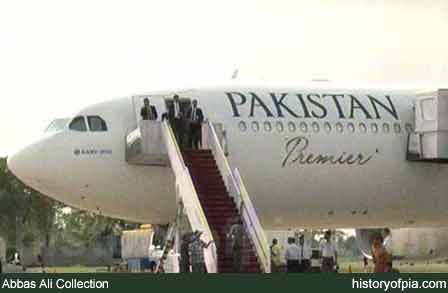 4R-ALN in PIA Premier livery (Abbas Ali Collection)
The last three active Airbus A310-300 aircraft were phased out from PIA fleet on December 31, 2016.
The Boeing 777 is currently the mainstay of PIA's medium- and long-haul operations, with feeder, local and regional services provided by Airbus A320-200, ATR 72-500 and ATR 42-500.
Life has never been easy for PIA, as the flag carrier of a young and developing nation which has had an eventful history to date, but it is a worthy ambassador for Pakistan and its people. Its services and personnel have helped to make the country more widely known and her people better understood in a large part of the world.